Sewing » Bib
Bib making
Simple and easy bib. This bib was made from a hand towel.
The inside is white nylon (waterproof).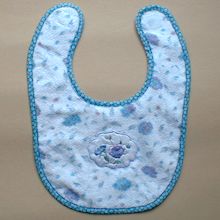 Materials
Towel.
Waterproof nylon cloth for the lining.
Bias binding.
Fastening tapes (cuttable tapes of hook and pile).
Pattern
If you are good at sewing, pattern is not needed.
Pattern for beginners.
Print it on A4 paper, then cut off.
You should make sure that the size fits for your baby or not.
Instructions
Cut out towel and nylon cloth. No seam allowance.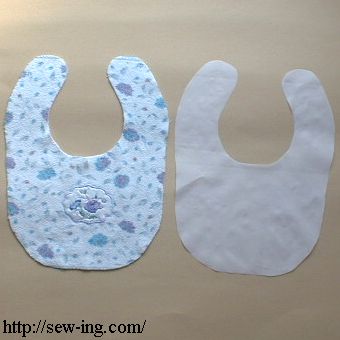 Make trimming with a bias binding. Stitch a pair of fastening tapes.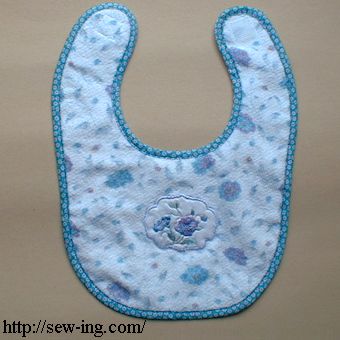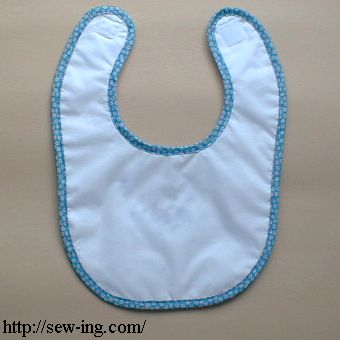 The side of nylon.
Baby doll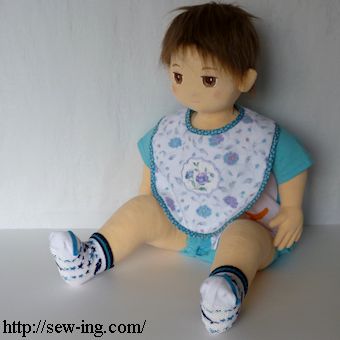 Baby cape / Baby dress / Baby bonnet / Baby shoes / Baby mittens / Bib
Polo shirt / Sweatshirt / Sundress
Kid's cap / Reversible hat / Tulip hat / Flat cap / Knit cap
Cloth gloves
Panda apron / Slippers / Indoor boots / Socks / Night vest
Shopping bag / Pouch / Felt cake